I did put a shirt on before hitting the gym.
My first day at gym was meant to be on Monday but I managed to find an excuse not to go! Yesterday I had cocktails with a friend so I couldn't possibly make time for gym! Today however, I was all out of excuses so off I went!
The hardest part of any routine is getting started. Once you get up and start the rest is all a lot easier and gradually just becomes second nature. This is what I'm hoping for, anyway!
My biggest problem at gym is that I'm impatient! I want to be able to run 5kms on the treadmill and do one armed push ups NOW. Having gone through all that I have, my pain tolerance is probably a little higher than most which means that when I start to get sore, I keep going.
This may sound like an advantage but it's really not! Today I did just short of an hour at the gym and I know that tomorrow I am going to regret it!
One of my favorite things about working out is getting to listen to awesome music. I have a million gym playlists and they really do get me excited to exercise!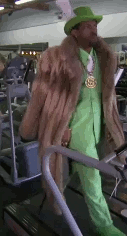 The only disadvantage of listening to music that you're really into is that there is a chance that you start to move 'with the music'. When a "gangster" song comes up on my playlist, it is EXTREMELY difficult not to walk with a little swag!!
This was my playlist today -
My top tune for today's workout was this -